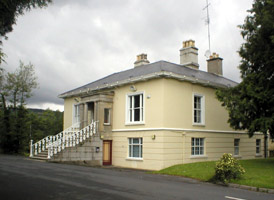 Overview
Callan Institute as part of the Saint John of God Community Services clg., promotes positive practices in the areas of Positive Behaviour Support (using the Multi-Element Behaviour Support Model) and Relationships and Sexuality in intellectual disability.
Callan Institute provides support to people with extra support needs and behavioural support needs. Behavioural support needs can come in all shapes and sizes, and can include difficulties in the expression of one's sexuality.

Raising Understanding and Awareness (RUA) - provides a model of support that focuses on identity, friendship, relationships and sexuality in the lives of children and adults with intellectual disability. RUA uses a bio-psycho-social understanding of sexuality and a Human Rights Based Approach in practice. RUA also includes the PLISSIT and High 5 Alive Models as part of a person centred approach which are all included in RUA's nine AWARENESS Principles.
We are part of Saint John of God Community Services clg and were founded in 1994. We provide support to the men, women and children within Saint John of God Services, including those with intellectual disabilities, mental health issues and needs associated with ageing. We also assist their staff teams and families to support them in developing good lives for all.
Our philosophy and model of Positive Behaviour Support is based on the work the Institute of Applied Behaviour Analysis in California, USA. This relationship continues to provide the foundation and support for our work. We come from a variety of professional backgrounds including psychology and social care.
Brother Benignus Callan
Brother Benignus Callan (1903- 1990) entered the Hospitaller Order of Saint John of God in November 1922. He was elected Provincial in 1946 and as Provincial he encouraged the Irish Brothers to undertake pioneering work in the United States and Australia. As General Councillor from 1953 to 1965 he assisted in the governance of the Order world-wide. A deeply religious man with a sense of humour, tremendous patience and kindness, he had a quiet tenacity and perseverance when it came to getting things done. Callan Institute was founded in 1994 in memory of his spirit.


'Values of Saint John of God'
Springing from the Christian values and holistic approach advocated and practised by its founder, the Hospitaller Order of Saint John of God is dedicated to the provision of social, education, welfare and health services. It has a mission to ensure that persons availing of its services receive the highest quality care, education, training, treatment or assistance in accordance with their needs. There are five values of St John of God that provide a framework for all services to be delivered, these are
Hospitality - Compassion - Respect


Hospitallity
Hospitality is a welcoming openess to all, to the familiar and the mystery of self, people, ideas, experience, nature and to God.

Compassion
Compassion is feeling with another in their discomfort or suffering, striving to understand the other's experience with a willingness to reach out in solidarity.


Respect
Respect is the attitude which treasures the unique dignity of every person and recognises the sacredness of all creation.